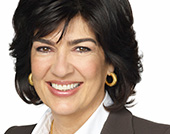 Chief International Anchor and Host, CNN and PBS
National Judge
Christiane Amanpour is the first Livingston laureate to be elected to its panel of judges. As the chief international anchor for CNN, she hosts CNN International's nightly interview program "Amanpour" and PBS's nightly global affairs program "Amanpour & Company." Amanpour became a Livingston Awards judge in 1997.
Beginning in 1983 as an entry-level assistant on the international assignment desk at CNN's headquarters in Atlanta, Amanpour rose through the organization becoming a reporter at the New York bureau, and later, the network's leading international correspondent. From the 1991 Gulf War, the 2003 American-led invasion, Amanpour has documented the bloody violence which has marked Iraq's recent history. In 2004, she also reported exclusively from the courtroom at the trial of Saddam Hussein, where the former dictator, disheveled and in chains, was eventually sentenced to death for crimes against humanity. On the ground during the siege of Sarajevo, Amanpour exposed the brutality of the Bosnian War, reporting on the daily tragedy of life for civilians in the city. She was outspoken, calling out the human rights abuses, massacres and genocide committed against the Bosnian Muslims, later saying, "There are some situations one simply cannot be neutral about, because when you are neutral you are an accomplice."
Amanpour's assignments have ranged from exclusive interviews with world leaders, reporting on the wars of our times and their human consequences, to natural disasters and religious conflict.
For her reporting from the Balkans, Amanpour received the Livingston Award. She has received every television journalism award, including an inaugural Television Academy Award, thirteen News and Documentary Emmy Awards, four Peabody Awards, two George Polk Awards, three duPont-Columbia Awards and the Courage in Journalism Award, an Edward R. Murrow Award, the Sigma Delta Chi Award and ten honorary degrees.
She was inducted into the Cable Hall of Fame, Broadcast & Cable Hall of Fame and The Atlanta Press Club's Hall of Fame and has been named a Commander of the Most Excellent Order of the British Empire, an honorary citizen of Sarajevo and a UNESCO Goodwill Ambassador for Freedom of the Press and the Safety of Journalists. Amanpour is a graduate of the University of Rhode Island.